Hans & Sophie Scholl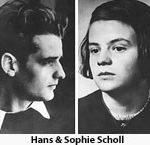 The Scholls wrote and distributed six pamphlets opposing Hitler's Third Reich and were caught and executed as traitors by the Nazis on February 22, 1943.
They received highest honors post-war from the German government for their courage. For more information on Hans and Sophie and the White Rose read: "A Noble Treason-The Story of Sophie Scholl & The White Rose Revolt Against Hitler".
Books available include:
Sophie Scholl and the White Rose, by Annette Dumbach (Author), March, 2006. Available in Kindle and paperback.
Review: "The book, chapter by chapter, builds an incontestable argument for the power and possibilities of action over passive acceptance and apathy." — UK Jewish Chronicle
The White Rose: Munich, 1942–1943 2d ed. Originally published as Students Against Tyranny. Trans. from the German Edition, Kindle Edition by Inge Scholl (Author and sister of Hans and Sophie Scholl), June, 1983. Available in Kindle and Paperback.
The White Rose features letters, diary excerpts, photographs of Hans and Sophie, transcriptions of the leaflets, and accounts of the trial and execution.
A Noble Treason: The Story of Sophie Scholl & The White Rose Revolt Against Hitler by Richard Hanser, October, 2012. Ignatius Press, available both in Kindle and Paperback.
Review: "This vivid account gives witness to the true spirit of man. One can only marvel at the patience, ingenuity and determination of these students as they pit themselves against Hitler and his Third Reich. Undeterred by the price to be paid if they were caught, their story reminds us of what true courage is and of our responsibility to do what is right. . . despite the odds." –Kurt von Schuschnigg, Author, When Hitler Took Austria
Movie:
The Final Hours: Sophie Scholl, 2006 award winning movie available for rent or purchase from Amazon, Netflix, or Youtube. You can view the movie below.